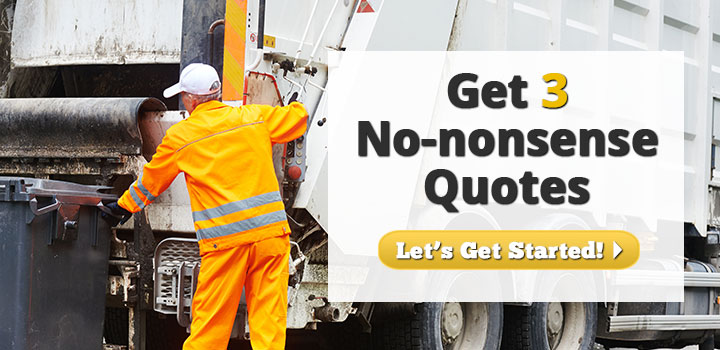 If you own a garbage hauling company, you already know how difficult it is to find good insurance. Well, we've made the process a little easier. Fill out one form, we connect you with three garbage haulers insurance agents. They compete for your business, which allows you to select the insurance company that best fits your needs.

Knowledgeable Garbage Hauling Insurance Agents Are Important
Very few insurance companies are familiar with the garbage hauling industry. Oftentimes you will talk to a traditional automobile insurance representative for several minutes before you realize he can't help you. He doesn't know the industry.
Garbage haulers face unique risks that must be addressed
Municipal trash collectors hitting parked cars
Pedestrians weaving around garbage trucks as you make your route
Impatient motorists carelessly attempting to pass
Risks associated with hauling hazardous material
Your employees working literally in the middle of the street
Your garbage hauling operation needs coverages that address these risk factors and more. Your operation is no doubt unique, but a dedicated garbage hauler insurance agent is usually familiar with the following business types:
New Ventures & Established Businesses
Owned Landfills
Recycling Centers
Garbage Pickup
Portable Toilet Service Companies
Sanitation Contractors
Septic Service Companies
Transfer Stations
Scrap Metal Dealers
What to Look for in a Garbage Hauler Insurance Agency
1. Reliability
When you're searching for an insurance company for your trash hauling business, the most important factor you need to consider is their reliability. If one of your garbage trucks is in an accident, you want to be certain that your insurance company has your back. That's why, when an agent recommends a company, it's crucial to check that prospective company's rating on A.M. Best or Moody's. Work with your agent to get the most reliable company possible.
2. Price
Price is obviously one of the biggest things you'll consider when comparing trash hauler insurance companies, but it shouldn't be the only thing you're considering. Don't look for the cheapest price, look for the fairest price.
3. Coverage
There are many different types of insurance coverages out there that garbage haulers can opt to purchase. Ask your representative to go over which coverages you need and which ones are extraneous. To learn more about the coverages typical to garbage haulers, check out our coverage guide.
4. Flexibility
Your insurance agent should be available when you need them. Ask about their hours of operation and how quickly they can revise a policy if yours needs changing.
Get Started Now!
It's easy to get started comparing garbage hauler insurance companies. Visit this page, fill out one form, and we take care of the rest!