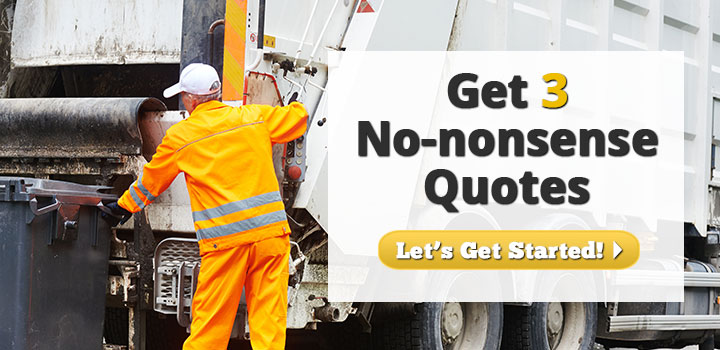 Save big by letting three agents compete for your waste hauler insurance!

How Much Does Waste Hauler Insurance Cost?
Insurance is a major source of overhead for waste collection businesses. It pays then to learn as much as you can about the average rates of insurance policies.
So let's be frank. Waste hauler insurance doesn't come cheap. The price of insurance for garbage trucks depends on many factors but it can average between $4000 and $15,000 per truck per year. That's for municipal garbage collection. If you do private collection, it costs a little less. If you do commercial or industrial collection, it costs a little more.
But that's just for garbage trucks, and it's just a ballpark estimate. How much will you pay if you do recycling? How much for hazardous waste and medical waste? What about septic services and portable toilet services? Well… it depends.
What Determines the Cost of Garbage Truck Insurance
Your insurance agent will ask you a few questions about your business before he can quote you a price. How you answer these questions will tell him what kind of risk you pose his company. There are certain things he likes to see in a garbage pickup service and certain things he doesn't like to see.
Things That Earn You A Cheaper Policy
You never leave your state
You've never had an accident
You've been doing waste transportation for years and years
You do trash collection in a rural or suburban area
You've done background checks on your employees and all your drivers have clean records
Things That Might Drive Up Your Cost
You operate outside of a 75-mile radius
You haul biohazard or medical waste
You're a new business
You own a landfill, incinerator, or recycling center
You do tash collection in an urban / metro area
Average Cost of Waste Disposal Insurance Coverages
Different garbage disposal companies pay different amounts for insurance based on coverage alone. Almost all trash disposal businesses will need primary liability insurance and general liability. The other coverages are more optional.
| | |
| --- | --- |
| Coverage | Average Cost |
| Primary Liability | $3000-7000 |
| General Liability | $500-2000 |
| Workers' Compensation | $3600-7000 |
| Umbrella Policy | $1000-1500 |
Ways Get a Cheaper Rate
Maybe you've been in an accident or two. Or maybe you own a landfill or transfer station and you don't have much money to spare. Are you destined for a high rate on trash hauler insurance? Not necessarily. There are a few things you can do to reduce your insurance costs.
Bundle coverage. Every single refuse truck in your fleet will require commercial auto liability. Transfer stations and owned landfills need general liability. Liquid waste haulers, hazmat haulers and medical waste haulers will need special endorsements as well. If you get all these coverages through a single company, they will offer you a discounted price. Don't try to buy your insurance piecemeal.
Pay up front. Some companies choose to pay month-to-month. This is not the best way to save. Insurance companies will often take a chunk off your bill if you pay your entire premium at the beginning of the year.
Commit to a safety training program. Businesses that commit to a thorough safety program will see reduced accidents and will be rewarded with a better deal on insurance. There's no guaranteed way to completely avoid accidents, but small things can help.
Don't allow your employees to text on the job
Ensure they're wearing their protective equipment and not taking it off when you're not around
Make them wear their safety belts
Teach them proper lifting techniques
Teach them to communicate with one another effectively
Don't let helpers stand on the garbage truck step while it's backing up
Hire only the best drivers. It can sometimes be difficult for sanitation services to find reliable employees. But if you're patient and hire drivers with clean records and CDL experience, your cost will drop.
Discounts for large fleets. It never hurts to ask. Insurance agents want big business and they'll often entice you with special offers.
Shop around. The absolute best thing you can do to save money on garbage hauling insurance is to comparison shop. An easy way to do this is to use our simple quote form. We connect you for free with three agents who independently give you a quote. You choose the cheapest of the three and save.
Why Does Garbage Transport Insurance Cost So Much?
You might be wondering why insurance costs so much for waste transport companies. It's simple really. This is a dangerous job. Garbage collectors have a higher mortality rate than almost any other profession. Garbage trucks get into more accidents than typical commercial vehicles. And when they do get into accidents, they cause more damage. It's a tough job. Luckily, a smart business owner can reduce his costs and maybe save some money. You just have to shop intelligently.