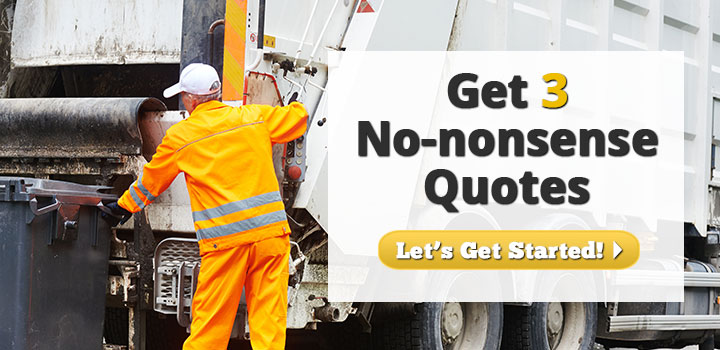 Finding insurance for a hazmat waste collection service used to be hard. Not many agents know how to insure hazardous waste collectors. But when you fill out our one simple form, we connect you with three agents who can help you out. It's as easy as that.

The Risks Facing Hazardous Waste Haulers
First, what qualifies as hazardous waste? The EPA is the best source for determining what counts as hazardous waste. But it mostly consists of materials with these properties:
Ignitable
Reactive
Toxic
Corrosive
It's no secret that hauling hazardous materials is dangerous work. That's why your drivers go through much more rigorous background and security checks than drivers of other commercial vehicles. If something bad happens, you will face a much heftier liability.
That's why hazardous material transporters are expected to take out more insurance than other commercial businesses.
Automotive Liability Insurance – Your waste hauling truck must be insured with a limit of at least $1,000,000.
Pollution Liability Insurance – Required to have a CA9948 or equivalent plus MCS-90 endorsement with a recommended minimum limit of $5,000,000.
These insurances sound pricy, and they are, but there's good reason for them. If your hazmat hauling truck accidentally blindsides another motorist and spills its contents onto the highway, you aren't just responsible for the damages done to the other person's car. You're responsible for cleaning up the material that has leaked into the soil. You want to talk expensive? Environmental clean-up — that's expensive.
Requirements of a Hazardous Waste Transportation Service
The EPA requires all Hazmat carriers to:
Get an EPA Identification number
Agree with the EPA's Hazardous Waste Manifesto
Be responsible for any discharges of hazardous waste
Obey all US DOT regulations,  including CFR 49 Part 397
How to Reduce Risk
To reduce your risk on site and on the road, there are a few things you can do:
Preform more rigorous background checks
Increase security
Rank your risks and address them in order
Review your safety program more regularly or hire an outside consultant.
How to choose a reliable hazmat transport insurance company
It is crucial to your business that you find an insurance company that is comfortable writing an insurance policy for a hazardous materials hauler. They need to know which coverages you need, including pollution liability, environmental protection, and umbrella coverage. They need to know which endorsements are required of you by your local DOT and the FMCSA if you haul interstate. They need to be available 24/7/365 for any emergency.
Before you agree to a policy, it's also important to research the reliability of your company as well. Websites like AM Best provide ratings of different companies.
Compare agents so you get a rock solid policy.
You're working within a price range. It's important to get the best coverage for your money. You can find this kind of coverage simply by shopping around.
When you fill out our one simple form, we connect you with three agents who know how to insure hazmat operations. They offer their lowest price and you select the one that works for you. Get started now.