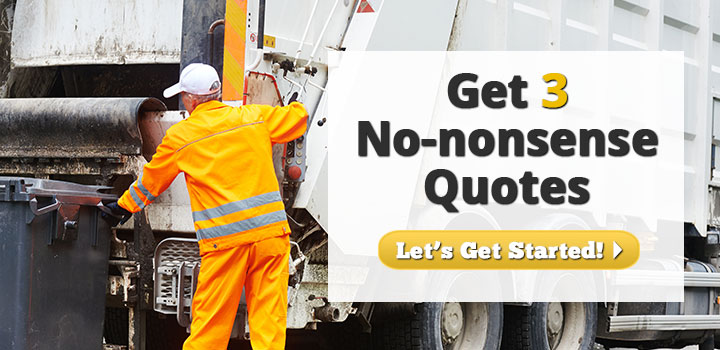 Are you looking for a quote on insurance for your waste hauler service? We can connect you right now with three garbage collector insurance agents who can give you a personalized rate on commercial insurance. Get started now!

What's the Average Insurance Rate for Waste Haulers?
Waste haulers are required by law to insure their trucks with commercial auto liability insurance as well as get workers comp. This can be expensive, seeing as how waste hauling is the fifth most dangerous job in America.  In addition to the coverages you opt to get, your rate is determined by factors such as:
Your location
Your area of operation
The age and experience of your drivers
The age of your business
Whether you haul interstate or intrastate
What kind of company you are
Because no garbage collection business is the same, rates on insurance can vary a lot. If you are a typical established venture, you can expect to pay between $4000 and $7500 per truck per year.
You should note that some insurance agencies refuse to write policies for anything less than $15,000 dollars. If you have a fleet of only one or two garbage trucks, expect to pay more than the average rate.
How to Lower the Cost of Garbage Collectors Insurance
Be Safe!
If you want a lower rate on garbage collectors insurance, one of the most obvious things to do is not get into any accidents. There's no surefire way to completely avoid accidents, but small things can help.
Don't let your employees text on the job
Make sure they're wearing their protective equipment
Make them wear their safety belts
Teach them proper lifting techniques
Teach them to communicate with one another effectively
Don't let helpers stand on the garbage truck step when it's backing up
Insurance agencies will often offer discounts to businesses who have comprehensive safety programs.
Bundle Your Coverage
You should use the same company that insures your vehicles to insure your place of business as well. An insurance company will often offer discounts to those who bundle their general liability, property, and workers comp insurance with their auto liability insurance
Shop Around
The absolute best thing you can do right now to lower the cost of your garbage collection insurance is to compare multiple companies at once. We've made this easy
To get three quotes at once, fill out this form. It's fast and it's free. Plus, it's the best way to ensure you get the best rate for your garbage collection service.