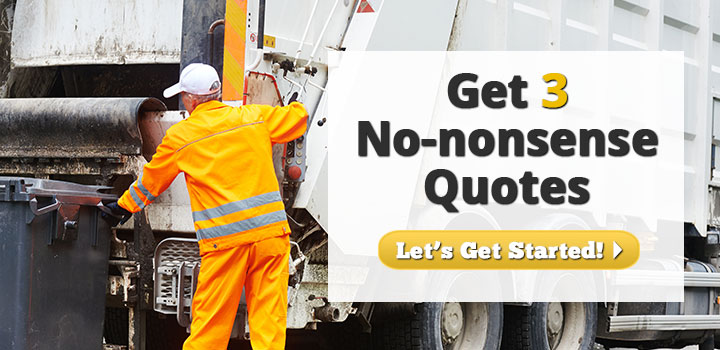 Getting insurance coverage for your trash hauler can be tough. That's why we're here. Just fill out one form and we connect you with three insurance agents who specialize in covering trash haulers. They each give you a quote and you pick the winner. So get started now!

What Does Trash Haulers Insurance Cover?
Trash hauling businesses need typical coverages that every business needs, like General Liability Insurance and Property Insurance. However there are certain things that trash collectors have to pay special attention to when considering which insurance coverages they need.
Your drivers & collectors
According to a 2010 report, 35% of trash collectors are injured each year. It's crucial that you have Workers Comp and Medical Payment insurance in place to protect against these common occurrences:
Heavy Lifting – Even the most careful trash collector can hurt his back after lifting trash bins day after day. When an employee pulls his back on the job, you need insurance that can cover it.
Handling HazMat – There is a great potential for injury, infection, poisoning, burns or lung damage.
Harmful Trash – Garbage isn't just banana peels and coffee grounds. Trash collectors routinely handle broken lightbulbs, shards of glass, jagged pieces of metal
Rodents – Bites from rats, raccoons, and birds is a real problem. There's a real chance of rabies, too, which requires medical attention
Vehicles – The most potent danger facing garbage truck drivers and garbage collectors is the treat of inattentive motorists.
Your garbage trucks
Your garbage trucks are on the road day after day; accidents are bound to happen. It's crucial to completely cover your vehicle.
Automobile Liability – Protects other vehicles when your garbage truck is at fault in an accident

Bodily Injury – Pays for medical expenses caused by the accident. Relevant if your garbage truck hits a pedestrian
Property Damage – Pays for damage done to others' property as a result of the accident. Relevant if your garbage truck hits a parked car, fire hydrant, or mailbox

Physical Damage – Protects your vehicle in the event of an accident.

Collision – Pays for damage done to the refuse truck as a result of a collision, usually with another automobile.
Comprehensive – Pays for other types of damage done to the vehicle. This includes vandalism, fire, weather damage, and theft.

Uninsured Motorist – Pays for damage done to your garbage truck if it's hit by an un-insured or under-insured driver.
How to reduce accidents
Preventative measures can save your employees from accidents and your vehicles from damage. It can even reduce the cost of your trash hauler insurance. Experts recommend that trash hauler owners teach their employees to change unsafe behaviors, such as rushing, not wearing protective equipment, or texting while on the job.
How to get the best trash hauling insurance coverage
There are many insurance companies out there who do business exclusively with garbage truck owners. The trick is finding the best one. We can help you narrow down your search by connecting you with three garbage truck insurance agents today. They will each offer you a plan and you can select the coverage that works best for you and your business.